Braided hairstyles are a popular and practical choice for kids with African hair. Braids keep the hair tidy and manageable, and they can last for weeks without requiring too much maintenance. In Texas, there are many options for kids' braid styles, from traditional cornrows to trendy box braids.
If you're searching for braid hairstyles for kids near me or the best hair cut near me, especially in Waxahachie or Arlington then Authentic African Hair Braiding is the best hair salon that offers a wide range of kids braid styles. In this blog, we will talk about some of the top African hair braiding styles for kids in Texas.
Kids Braid Styles
1. Box Braids
Box Braids for kids is a classic style that never goes out of fashion. These braids involve sectioning the hair into square or rectangular shapes and then braiding each section from the roots to the ends.
For kids, box braids are an excellent choice because they are low maintenance and can last for up to six weeks with proper care. Kids can choose from a wide range of colors and lengths, depending on their preferences.
2. Kids cornrows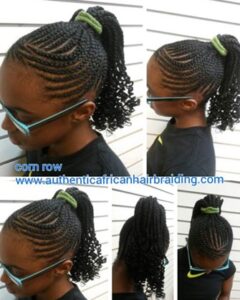 Cornrows are another popular braiding style for kids with African hair. Cornrows are made by braiding the hair close to the scalp in rows to make a simple or complicated pattern. kids cornrow hairstyles can be styled in various ways, such as a straight-back or curved pattern. They can also be accessorized with beads, ribbons, or other decorative items.
Cornrows are an excellent choice for kids who want a long-lasting style that is easy to maintain. Kids can choose from different patterns and designs, from simple straight rows to complex geometric shapes.
3. Crochet for Kids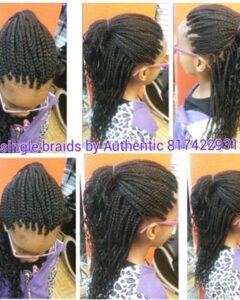 Crochet braids are a newer and more popular style for African hair. This technique involves attaching pre-braided hair extensions to the natural hair using a crochet hook. The result is a natural-looking and low-maintenance style that can last for up to eight weeks. Crochet braids are an excellent choice for kids who want a protective style that looks like their natural hair.
To Conclude
There are many African hair braiding styles for kids in Texas. Whether you choose Box Braids, Cornrows, or Crochet style, make sure to find a skilled and experienced braider who can create the look you want. With the right care and maintenance, your child's braids can last for weeks and keep their hair looking neat and stylish. Therefore, visit our Authentic African Hair Braiding salon which is a reputable salon that specializes in Kids' braid hairstyles to achieve the desired look.
FAQs Related to African Hair Braiding Styles for Kids
Q.1 Are braids good for kids' hair?
Ans. Yes, braids are a great choice for kids' hair because they protect the hair from damage and breakage. Braids can also help retain moisture and reduce tangling.
Q.2 Which hairstyle is best for school?
Ans. A simple and low-maintenance style like braids or twists is ideal for school because it doesn't require too much upkeep.
Q.3 Is braiding hair good or bad?
Ans. Braiding hair is good for African hair because it protects the hair from damage and promotes healthy growth. However, braiding too tightly or leaving braids in for too long can cause damage.